View the original article from here.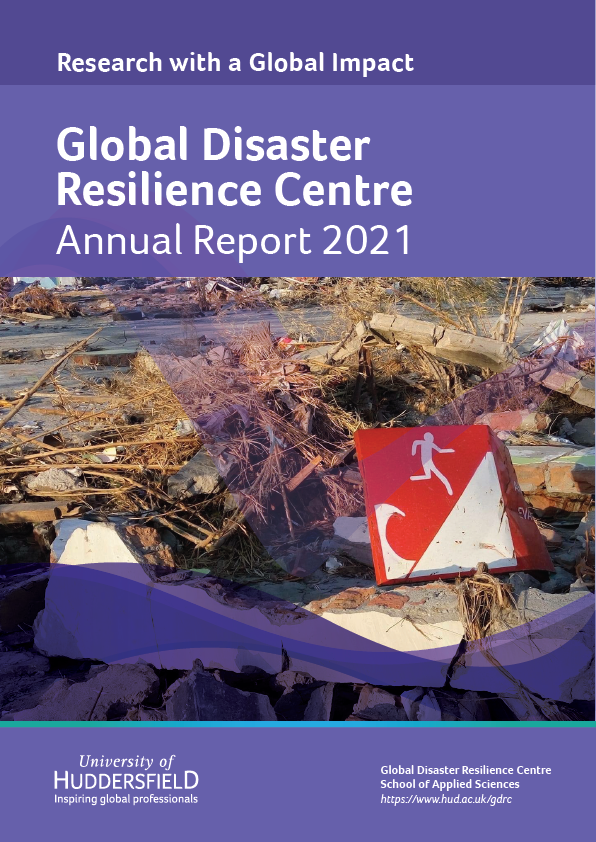 It has been a busy year for the Global Disaster Resilience Centre with 17 new and ongoing research projects, with 188 partners in 31 countries and a total grant value of over £19 million
THE obstacles for conducting international research caused by a global pandemic didn't hold back the Global Disaster Resilience Centre (GDRC) at the University of Huddersfield which over the last two years has had to unexpectedly test its own disaster resilience to the full. 
Co-directors of the GDRC, Professor Richard Haigh and Professor Dilanthi Amaratunga, have announced that despite a disruptive and tumultuous year during 2021, the Centre has stayed on track with another productive and successful year, and have issued an Annual Report detailing the year's activities. 
"COVID-19 caused unavoidable impacts on our research activity," said Professor of Disaster Risk Reduction and Management Dilanthi Amaratunga. "Nevertheless, despite the lockdowns and associated setbacks, we are pleased to confirm that the 2021 Annual Report of the Global Disaster Resilience Centre has been published. This reflects a tremendous amount of work from all our members and research collaborators," she said.
Currently, the Centre has 17 new and ongoing research projects, with 188 partners in 31 countries and a total grant value of over £19 million.
In the last 12 months alone, the GDRC has completed eight global research projects, including one entitled CABARET, which emphasised the role of higher education in supporting global priorities and targets on disaster risk reduction.  The project provided capacity development to support regional cooperation on multi-hazard early warning in coastal communities with a particular focus on Asia.
The Annual Report contains details of the Centre's 2021 activities, outputs and outcomes, including an overview of current research themes and projects; appointments to national/international organisations, committees and strategic advisory bodies; international collaborations, events, achievements and awards, global research impact, publications; as well as education and training.
Multidisciplinary research
The GDRC is a global leader in multi-disciplinary research, education and advocacy to improve the resilience of nations and communities. Their vision is for a society that has the capacity to resist or change in order to reduce hazard vulnerability and to continue functioning physically, economically and socially when subjected to a hazardous event.
Professor Amaratunga explained that the Centre has only been able to continue on its successful trajectory due to the hard work and agility of its members. They have continually sought out new research directions, for example, incorporating the COVID-19 pandemic in their work. This includes a major UKRI funded project that is seeking to improve COVID-19 and pandemic preparedness through more effective multi-hazard early warning systems.
Another contributing factor in the Centre's success over the last 12 months has been uninterrupted research progress, despite widespread travel restrictions. This has been achieved, said Professor Haigh, as a direct result of the long-term links formed with international partners since the Centre was established at the University in 2014.
"Developments in technology have enabled us to adapt our research approach and coordinate fieldwork remotely, working closely with our partners in countries like Indonesia and Sri Lanka," he said.
The GDRC Annual Report can be accessed at: http://gdrc.buildresilience.org/gdrc-report-2021/.