An expert is defined as, "One who has special skill or knowledge; a specialist. In my view, the real definition of an expert is a person that I feel confident discussing a subject with and will place great weight on their advice. The real perception lies with the observer not the expert. You are an expert if people say you are. Leaders are always well known and are frequently invited to lead key events in the field. Expertise is just another word for knowledge. How do I acquire knowledge about my discipline? Two of the best ways are keeping contact with others by comparing and exchanging ideas, and reading about my field. In Building upon existing successes, I have identified those themes where through key commitments, we can construct a broad front of excellence. l work in partnership with international research leaders. At the same time, I exploit our wide range of capabilities to form new and ground‐breaking interdisciplinary combinations across my field of expertise. I will not let success in these themes distract me from the critical importance of investigator‐led research and the freedom and creativity needed to achieve excellence and impact. I will nurture and support scholarship and fundamental research. The highest standards of research integrity are an essential element of quality. Building on recent progress, I develop and implement communication and procedures to ensure that research ethics and all other dimensions of integrity are part of the values of our staff and govern our behaviour. I lead and have representation on many of the built environment field's most distinguished and influential international networks and committees. These appointments demonstrate the high standing of my work among peers and major stakeholders. They also position me to engage globally with: key development agencies; local, regional and central government; universities and other higher education and further education bodies; and, employers, industry and professional bodies. In doing so, I believe that I am able to direct and influence future policy and the research agenda. These appointments acknowledge my global standing, while also providing me the opportunities to strengthen partnerships and discover best practices.
I will continue to make an impact through my involvement in national and international strategic advisory bodies and some key examples in this context are listed below:
Expert,Intersessional Task Team on "Capacity Assessment of Tsunami Preparedness". IOC-UNESCO, Intergovernmental Coordination Group for the Indian Ocean Tsunami Warning and Mitigation System (ICG/IOTWMS). The Intergovernmental Oceanographic Commission of UNESCO (IOC-UNESCO), established in 1960 as a body with functional autonomy within UNESCO, is the only competent organization for marine science within the UN system. Intergovernmental Coordination Group for the Indian Ocean Tsunami Warning and Mitigation System (ICG/IOTWMS) Member List including all Indian Ocean surrounding 28 countries: Australia, Bangladesh, British Indian Ocean Territory, Comoros, Djibouti, France - Reunion, India, Indonesia, Iran, Kenya, Madagascar, Malaysia, Maldives, Mauritius, Mozambique, Myanmar, Oman, Pakistan, Seychelles, Singapore, Somalia, South Africa, Sri Lanka, Tanzania, Thailand, Timor-Leste, United Arab Emirates, and Yemen
Contributing partner, Asian Preparedness Partnership (APP). Governments, local humanitarian organizations and the private sector have come together to form the Asian Preparedness Partnership (APP) for strengthening the capacity on preparedness for emergency response in Asia. The APP will strive to improve the interface and partnership between Government, Local Humanitarian Organizations and Private Sector for enhancing capacities through partnerships, knowledge resources, training, and networking opportunities . Commencing September 2017.

Expert Adviser, Sri Lanka Community Landslide Risk Mitigation Project, National Building Research Organisation (NBRO) and the World Bank. The aim of the project is to help Government of Sri Lanka in undertaking a systematic approach for reducing the impacts of landslides as landslides are considered to be a major natural hazard. This project is being implemented by Asian Disaster Preparedness Center in partnership with the Norwegian Geotechnical Institute (NGI). since January 2017.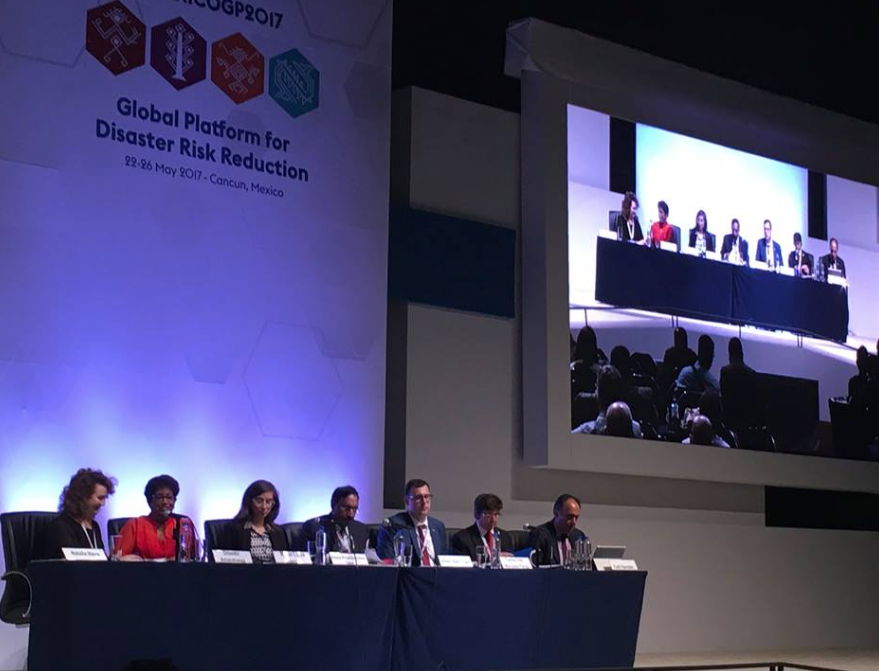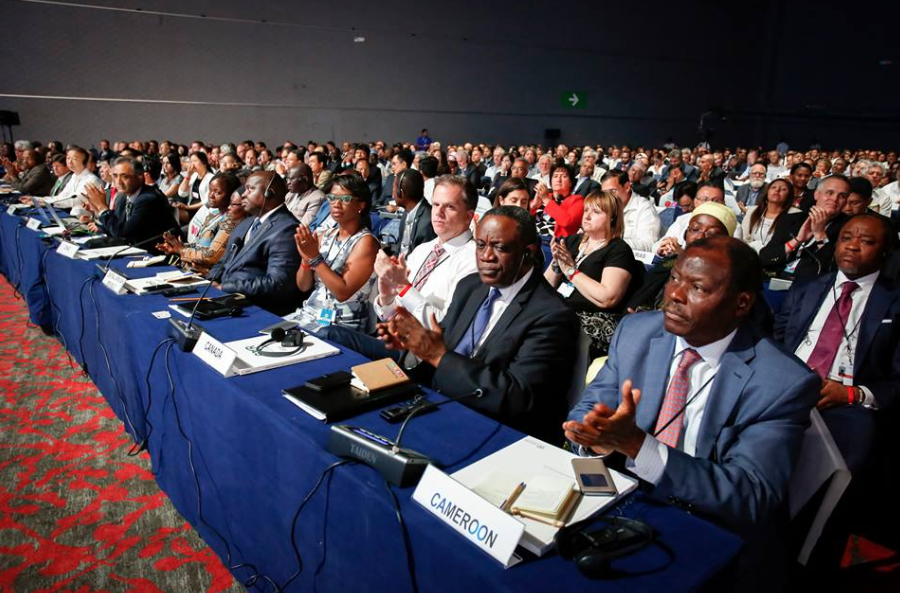 Co-organiser, Focal Point & a Panellist of the Formal Session on Disaster Risk Reduction Governance at the Global platform for Disaster Risk Reduction, 22 – 26 May 2017, Cancun, Mexico. Other Panellists included: Mr. Carlos Iván Márquez Pérez, Director National Unit for Disaster Risk Management in Colombia; María Luisa Romero. Minister of Government of Panama; Dr. Fadi Hamdan, Managing Director. Disaster Risk Management Center (DRMC), Lebanon; and Ms. Natalia Ilieva, Executive Assistant to the Secretary General of Asia Pacific Broadcasting Union (ABU). The Global Platform for Disaster Risk Reduction (Global Platform), as recognized by the UN General Assembly, is the main forum at the global level for strategic advice, coordination, partnership development and the review of progress in the implementation of international instruments on disaster risk reduction. The Global Platform marked the first opportunity for the international community to review global progress in the implementation of the Sendai Framework for Disaster Risk Reduction, which was adopted in Japan in 2015. More than 5,000 participants attended, including policy makers and disaster risk managers.

Organiser, Focal Point and the Moderator of the Session on DRR Governance at the local level, Local Government Summit day at the Global platform for Disaster Risk Reduction, 22 – 26 May 2017, Cancun, Mexico. This pre-event will consider the need to improve understanding of risk governance at the local level, including accountability and transparency, sharing of risk information, stakeholder participation and public awareness, encouraging action on stakeholder feedback, and sharing best practices

The international expert of the research initiative to explore possibilities of good ageing in place for elderly population in Malaysia particularly in the urban area with the focus only on laded property, a one-year project funded by the National Real Estate Research Coordinator (NAPREC) grant scheme coordinated by the Ministry of Finance Malaysia.

International Post disaster reconstruction and resilience building expert of the World Bank initiative on : "Sri Lanka: Development of Community Landslides Risk Mitigation", Asian Disaster Preparedness Center (ADPC), Bangkok, Thailand and Norwegian Geotechnical Institute (NGI), Oslo, Norway

Visiting expert to provide guidance and on the Risk mapping methodology associated with NBRO's Landslide Risk Assessment and Mapping initiative. National Building Research Organisation (NBRO) of Sri Lanka is the premier research and development institute established in 1984 has now grown in to a successful technical service provider and research & development institution where experts from multiple disciplines have teamed up and dedicated to create a disaster free built environment for the nation. GDRC Professors visited NBRO upon invitation of: Dr. Asiri Karunawardena, Director General of NBRO and Kishan Sugathapala, Director, Human Settlement Planning and Training of NBRO. 2016-date

Co-Lead of the International Scientific Advisory Committee. 7th International Conference on Building Resilience - Using scientific knowledge to inform policy and practice in disaster risk reduction and management, 27-29 November 2017, Bangkok, Thailand
Member of the International Board of Advisors. Article 25. Article 25 works to enable this right by building solutions to global problems. It has worked on over 85 projects in 34 countries. 2017-date
The international expert of the research initiative to explore possibilities of good ageing in place for elderly population in Malaysia particularly in the urban area with the focus only on laded property, a one-year project funded by the National Real Estate Research Coordinator (NAPREC) grant scheme coordinated by the Ministry of Finance Malaysia. 2016-date
Expert input at the National Science Challenge Workshop on "Resilience to Nature's Challenges", that was held at the 6th International Building Resilience Conference 2016 in Auckland, New Zealand, from 7-9th of September, 2016. The 2015-2019 research programme for Resilience to Nature's Challenges, National Science Challenge (RNC) applies ~ $4.5 million/yr (including contestable research) toward ten programs, working toward the vision that: New Zealand is a nation of people who have transformed their lives, enterprises and communities to anticipate, adapt and thrive in the face of ever-changing nature's challenges.
A Co-organiser and a Panellist at the Technical Session 2 – Disaster Risk Governance. Asian Ministerial Conference on DRR 2016 (AMCDRR), held from 02 – 05 November 2016 at Vigyan Bhawan, New Delhi, India. This first Asian Ministerial Conference for Disaster Risk Reduction after the advent of the Sendai Framework was hosted by the Government of India in November 2016 under the theme "Risk Sensitive Development for Community Resilience" and was organised by the Ministry of Home Affairs, in collaboration with UNISDR and with the support from International and National Development Partners. This panel provided direct input to Delhi Declaration Asia Regional Plan for Implementation of Sendai Framework representing the DRR Governance and Accountability Panel. This panel was chaired by H.E. Saber Chowdhury, Member of Parliament, Bangladesh, 28th President of IPU, Co-Chair of UNISDR Asia Advisory Group of Parliamentarians for DRR. Other panellists included Her Excellency Isabel Amaral Guterres, Minister, Ministry of Social Solidarity, Timor-Leste, Prof. Chandrashekhar, Hon. Minister, Disaster Management Department, Government of Bihar, India and Prof. Ali Ardalan, Advisor to Deputy Minister and Head of National Disaster Management Office (NDMO), Iran.
Invited Technical panel member to provide input Asia Regional Plan for Implementation of the Sendai Framework for Disaster Risk Reduction 2015-2030, a plan endorsed by the countries for the Asian region, representing the DRR Governance and Accountability Panel, Asian Ministerial Conference on Disaster Risk Reduction 2016, November 2016, New Delhi, India. Other outcomes included: A political declaration – consolidating the political commitment of governments towards preventing and reducing risk as well as strengthening resilience by accelerating implementation and monitoring of the Sendai Framework in the region; and Stakeholder action statements – voluntary statements of action of stakeholder groups towards a 'shared responsibility' approach in implementation of the Sendai Framework.
Commemoration of the First Ever World Tsunami Awareness day on the 5th November in New Delhi, India. The UN Secretary-General's Special Representative for Disaster Risk Reduction, Mr. Robert Glasser, initiated a moment's silence in remembrance of all those who have lost their lives in tsunamis as the first World Tsunami Awareness Day was commemorated on the final day of the Asian Ministerial Conference for Disaster Risk Reduction. Delhi, India. 2016.
Working Group member of the United Nations Words into Action on "Built Back Better" This guide will provide practical, evidence-based guidance to support stakeholder efforts in "building back better" in recovery, rehabilitation, and reconstruction, drawn from and featuring prevailing expertise and lessons learned. It will include information applicable to key economic and social sectors.
Invited to be the Co-organiser and the Focal Point of the Formal Session on Disaster Risk Reduction Governance at the Global platform for Disaster Risk Reduction, 22 – 26 May 2017, Cancun, Mexico. The Global Platform for Disaster Risk Reduction (Global Platform), as recognized by the UN General Assembly, is the main forum at the global level for strategic advice, coordination, partnership development and the review of progress in the implementation of international instruments on disaster risk reduction. It was established in 2006 and is now the world's foremost gathering of stakeholders committed to reducing disaster risk and building the resilience of communities and nations. The Global Platform will mark the first opportunity for the international community to review global progress in the implementation of the Sendai Framework for Disaster Risk Reduction, which was adopted in Japan in 2015. More than 5,000 participants are expected, including policy makers and disaster risk managers
Invited to be the Organise and Focal Point of the Pre-Session Event on DRR Governance at the local level, Local Government Summit day at the Global platform for Disaster Risk Reduction, 22 – 26 May 2017, Cancun, Mexico.
International Post disaster reconstruction and resilience building expert of the World Bank initiative on: "Sri Lanka: Development of Community Landslides Risk Mitigation", Asian Disaster Preparedness Center (ADPC), Bangkok, Thailand and Norwegian Geotechnical Institute (NGI), Oslo, Norway
Global Working Group Leader. Words into action – lead United Nations International Strategy for Disaster Reduction (UNISDR) Words into Action Guidelines on Accountability within the context of disaster risk governance. Appointed by UNISDR under the initiative towards the Development of the Sendai Framework "Words into Action" Implementation Guide for the Accountability for Disaster Risk Reduction. 2016 - date
Global Working Group Co- Leader, Words into action – leading UNISDR (United Nations International Strategy for Disaster Reduction) Words into Action Guidelines on Construction Practice and Policy. Appointed by UNISDR under the initiative towards the Development of the Sendai Framework "Words into Action" Implementation Guide for the Construction Practice and Policy. 2016 – date
Advisory Panel Member. Resilient Cities Initiative. United Nations International Strategy for Disaster Reduction (UNISDR) . The overall goal of the campaign is to achieve resilient, sustainable urban communities, with a growing number of local governments that are taking actions to reduce the risks to disasters. A longer-term objective following the campaign is to empower local governments with stronger national policies to invest in risk reduction at local level, as part of urban and regional development plans. "Through the Campaign towards safer cities and urban risk reduction, we can save lives, achieve gains towards the Millennium Development Goals, help protect natural resources, the urban heritage and the economic activities…". 2010- date
Panel Lead on Disaster Risk Governance at the local level, High Level Forum on Local Implementation of the Sendai Framework for Disaster Risk Reduction, City Hall, Florence, Italy, 16-19th June 2016, organised by the Italian Government and the City of Florence in partnership with the United Nations Office for Disaster Risk Reduction (UNISDR)
Member of the International Scientific Committee, 8th International Conference on Structural Engineering and Construction Management , December 2017, Kandy, Sri Lanka.
International Scientific Adviser, CIB WORLD BUILDING CONGRESS 2016 on INTELLIGENT BUILT ENVIRONMENT FOR LIFE, May 30 - June 3, 2016, Tampere Hall, Tampere, Finland. The theme for CIB World Building Congress 2016 is "Intelligent built environment for life". It highlights the importance of build environment and its development to the society. This triennial congress will focus on the intelligent processes, products and services of construction industry: How can research help to improve the contribution of constructed assets to digitalizing world and service needs? How will the research community meet emerging new needs of the users?
International Scientific Adviser, The 10th ACEH INTERNATIONAL WORKSHOP AND EXPO ON SUSTAINABLE TSUNAMI DISASTER RECOVERY (AIWEST-DR 2016) on Sustainable Tsunami Disaster Recovery". 15th - 17th November 2016. Organised by the Tsunami and Disaster Mitigation Research Center (TDMRC) of Syiah Kuala University, Indonesia.
International Scientific Adviser, the 6th International Building Resilience Conference 2016 with the theme "Building Resilience to Address the Unexpected", organised jointly by the Construction Management Groups at Massey University and the University of Auckland and Global Disaster Resilience Centre, University of Huddersfield, UK, Auckland, New Zealand 7-9th of September, 2016
International Scientific Adviser. 10th Aceh International Workshop and Expo on Sustainable Tsunami Disaster Recovery. Tsunami and Disaster Mitigation Research Center (TDMRC), International Research Institute of Disaster Science, Tohoku University (IRIDeS). Indonesia (Banda Aceh). 2016
Member of the International Scientific Committee, International Conference of the International Institute for Infrastructure Resilience and Reconstruction (IIIRR), University of Peradeniya, Sri Lanka. 2016.
Member of the International Scientific Committee, 9th International FARU Conference on "Building the Future - sustainable and resilient built environments", Faculty of Architecture: University of Moratuwa, Colombo, Sri Lanka, September 2016
Member of the International Scientific Committee, CIB International Conference on Going North for Sustainability: Leveraging knowledge and innovation for sustainable construction and development, London South Bank Univeristy, London, UK. November, 2015.
Member of the International Scientific Committee, 9th International FARU Conference on "Making built environments responsive", Faculty of Architecture: University of Moratuwa, Colombo, Sri Lanka, December 2015.
Panel Co-chair – Roundtable discussion on the role of Higher Education in supporting implementation of the Sendai Framework for Disaster Risk Reduction 2015-2030, 5th TH INTERNATIONAL CONFERENCE ON BUILDING RESILIENCE, EXPLORING THE CONCEPT OF RESILIENCE AS A USEFUL FRAMEWORK OF ANALYSIS FOR HOW SOCIETY CAN COPE WITH THE THREAT OF NATURAL AND HUMAN INDUCED HAZARDS, NEWCASTLE, AUSTRALIA, 15TH-17TH JULY 2015
Partner, the 2015 Global Assessment Report on Disaster Risk Reduction (GAR15), launched on the 4th March 2015 by the UN Secretary-General Ban Ki-moon at the Headquarters of the United Nations, New York. Global Assessment Report (GAR) provides a global assessment of disaster risk reduction and a comprehensive review and analysis of the natural hazards affecting humanity. The GAR aims to focus international attention on disaster risk and the need to manage and reduce it, and on the need to consolidate political and economic support to do so. It is produced in collaboration and consultation with many stakeholders, including United Nations agencies, governments, academic and research institutions, donors, and technical organisations and specialists. 2014 – 2015.
Multi-Stakeholder Segment, Working Session: "Applying Science and Technology to Disaster Risk Reduction Decision-Making" as a member of the Science and Technology Major group at the UN World Conference on Disaster Risk Reduction held in Sendai, Japan, March 2015. This session set the agenda for the future of science and research for disaster risk reduction and explore new partnerships for promoting evidence-based disaster risk reduction for sustainable development. The session also discussed the proposal of the scientific community to re-initiate an international scientific advisory mechanism for disaster risk.
Partner and lead contributor, Tsunami Risk Assessment and Mitigation for the Indian Ocean, Intergovernmental Oceanographic Commission, Manuals and Guides 52. This manual was developed by the Intergovernmental Coordination Group for the Indian Ocean Tsunami Warning and Mitigation System (ICG/IOTWS) of the Intergovernmental Oceanographic Commission (IOC)of UNESCO. 2015
Partner of the E Conference on Landside risk reduction - Model Policy frameworks, Standards and Guidelines on Landslide Disaster Reduction. World Centre of Excellence on Landslide Disaster Reduction, Central Engineering Consultancy Bureau and the Ministry of Mahaweli Development and Environment in Sri Lanka. 2015
Partner, Global Alliance of Disaster Research Institutes (GADRI). Disaster Prevention Research Institute, Kyoto University, Japan. GADRI is a forum for sharing knowledge and promoting collaboration on topics related to disaster risk reduction and resilience to disasters. GADRI facilitates discussions on, Planning and organization of disaster risk research; Formation of international research groups to investigate current global disasters, and implement new research methodologies, and emphasizing trans-disciplinary approaches; Establishment of an international network for timely communication related to disaster research and collaborations with other networks; and Other issues relating to the promotion of disaster risk reduction, such as engaging with policy makers and practitioners. 2015 -
Member of the International Scientific Committee, 11th International Conference of the International Institute for Infrastructure Resilience and Reconstruction (I3R2): Complex Disasters and Disaster Risk Management, August 27-29, 2015, Seoul, Korea;
International Committee Member, The "State of DRR at the Local Level", A 2015 Report on the Patterns of Disaster Risk Reduction Actions at Local Level. An initiative of the United Nations Office for Disaster Risk Reduction (UNISDR) with the support of the Making Cities Resilient Campaign
Panel member of the policy dialogue - Tsunami Recovery in Sri Lanka: Ten Years On, 5th December 2014, Galle Face 6 Conference Hall, Galle Face Hotel, Colombo, Sri Lanka. Organized by SPARC, University of Colombo, Sri Lanka; Global Disaster Resilience Centre, University of Huddersfield, UK; University of Moratuwa, Sri Lanka; and CASCADE Project (European Union's Seventh Framework Programme (FP7/2007-2013) under grant agreement n° 609562). This was an attempt to capture the insights and conclusions that emerge from the event which will be used to inform policy for the international community, as well as national and local government.
Panel member, regional workshop on Coastal Hazards and Tsunami Risk Assessment and Management, which is based on the IOC Guidelines on Tsunami Risk Assessment and Mitigation for the Indian Ocean, University of Moratuwa, Colombo, Sri Lanka, from 29 September – 1 October 2014
UNISDR "Making Cities Resilient" Campaign Advocate. Margareta Wahlström, Special Representative of the Secretary-General (SRSG) of the United Nations for Disaster Risk Reduction has made this appointment who promote urban disaster resilience in their spheres of influence. 2014- date
International Scientific Committee Member, Third World Construction Symposium 2014, Jun 2014
Member of the International Scientific Committee, 1st International Conference on Infrastructure Failures and Consequences, RMIT University, Melbourne, Australia, July 2014
Member of the Post-2015 DRR Framework Advisory Group. Invited by the Special Representative of the Secretary-General for Disaster Risk Reduction (SRSG), the Advisory Group provides guidance on substantive and process related matters to the SRSG on the post-2015 framework for disaster risk reduction. The Advisory Group consists of distinguished representatives from the public and private sector, as well as international and non-governmental organizations. 2014 – 2015
I was invited by the European Commission to lead the Horizon 2020 launch for the South Asia region: "The Horizon 2020: Teaming up with EU for Research Excellence". Horizon 2020 is the new financial programme of the European Union (EU) for research and innovation and acts as the successor to the current programme (FP7) which will run until the end of 2013. It has a budget of just over €70 billion for the period between 2014 and 2020. The new programme is part of the drive to create new growth and jobs in Europe. 2014.
Expert Adviser, establishing a Centre of excellences in the area of Natural Disasters, The Ministry of higher education of Saudi Arabia. 2014
Member of the International Scientific Committee, 2014 Annual International Conference of the International Institute for Infrastructure Resilience and Reconstruction (IIIRR): "Collaboration for Effective Disaster Mitigation and Response", Perdue University, Indiana, USA, May 2014
International Scientific Committee Member, Third World Construction Symposium 2014, SUSTAINABILITY AND DEVELOPMENT IN BUILT ENVIRONMENT: THE WAY FORWARD. Jointly organised by the Ceylon Institute of Builders (CIOB) and Building Economics and Management Research Unit (BEMRU), Department of Building Economics, University of Moratuwa, June 2014
Member of the International Scientific Committee, 1st International Conference on Infrastructure Failures and Consequences, RMIT University, Melbourne, Australia, July 2014
Member of the International Scientific Committee, 4th International Conference on Structural Engineering and Construction Management 2013 (ICSECM), Kandy, Sri Lanka, 13-15 December 2013.
Member of the International Scientific Committee, Dealing with Disasters Conference (DWD 2013):From Opportunity to Action: Bridging the Gap between Disaster Reduction and Development through Science(s), Technology and People Centred Actions, 4th Conference of the International Society for Integrated Disaster Risk Management (IDRiM 2013), The combined Dealing with Disasters 2013 and 4th Conference of the International Society for Integrated Risk Management (IDRiM), Northumbria University, Newcastle upon Tyne 4th - 6th September 2013.
Member of the scientific advisory committee, 9th Annual International Conference of the International Institute for Infrastructure Renewal and Reconstruction on Risk-informed Disaster Management: Planning for Response, Recovery and Resilience, Queensland University of Technology, Brisbane, Australia, July 2013.
Member of the International Scientific Committee, 2013 Annual International Conference of the International Institute for Infrastructure Resilience and Reconstruction (IIIRR): Risk-informed Disaster Management: Planning for Response, Recovery and Resilience, Queensland University of Technology, Brisbane, Australia, July 2013
Member of the International Scientific Committee, 4th International Conference on Structural Engineering and Construction Management 2013 (ICSECM), Kandy, Sri Lanka, 13-15 December 2013.
Member of the international scientific committee, CIB World Congress,Brisbane, Australia, May 2013.
POLICY BRIEFING PANEL MEMBER: RESEARCH NEEDS FOR DISASTER RESILIENCE &DEVELOPMENT, Thursday 28 November 2012, RMIT University, Melbourne, Australia
Peer review panel member, Foresight project on Improving Future Disaster Anticipation and Resilience - The Foresight Project on Improving Future Disaster Anticipation and Resilience (http://www.bis.gov.uk/foresight/our-work/policy-futures/disasters). 2012
International Advisor, Chamber of Construction Industry Sri Lanka. As the accredited representative of the Domestic Construction Industry, founded by all Institutes and Associations of Construction Professionals and the National Construction Association of Sri Lanka, it has consultative status with the Government of Sri Lanka and in particular with the Ministry of Construction & Engineering Services, the Ministry of Export Development & International Trade and the Ministry of Foreign Affairs, among others. 2008-2012
Member of the International expert peer review committee of the Global Assessment Report. The preparation of the GAR is coordinated and supervised by UNISDR. The GAR is a comprehensive review and analysis of the natural hazards that affect us. It comes out every two years. It looks at how public regulation and private investment shape disaster risk. 2012 – 2013.
Member of the international scientific committee, CIB World Congress (http://worldbuildingcongress2013.com/), Brisbane, Australia, May 2013. 2013 World Congress focused on the relationship between construction and society, especially how research helps maximise the contribution of constructed assets to social goals, and meet emerging social needs.
Member of the International Scientific Committee, 4th International Conference on Structural Engineering and Construction Management 2013 (ICSECM), Kandy, Sri Lanka, 13-15 December 2013.
Member of the International Scientific Committee, Dealing with Disasters Conference (DWD 2013):From Opportunity to Action: Bridging the Gap between Disaster Reduction and Development through Science(s), Technology and People Centred Actions, 4th Conference of the International Society for Integrated Disaster Risk Management (IDRiM 2013), The combined Dealing with Disasters 2013 and 4th Conference of the International Society for Integrated Risk Management (IDRiM), Northumbria University, Newcastle upon Tyne 4th - 6th September 2013.
Member of the International Scientific Committee, 2nd World Construction Symposium 2013 on Socio Economic Sustainability in Construction: Practice, Policy and Research, jointly organised by the Ceylon Institute of Builders (CIOB); International Council for Research and Innovation in Building and Construction (CIB SB 13); International Initiative for a Sustainable Built Environment (iiSBE); United Nations Environment Programme - Sustainable Buildings and Climate Initiative (UNEPSBCI); International Federation of Consulting Engineers (FIDIC) and, Building Economics and Management Research Unit (BEMRU). 14 - 16 June 2013
Member of the Scientific and Technical Committee, Foundation Global Risk Forum GRF Davos, 4th International Disaster and Risk Conference IDRC, Davos 2012
Adviser, Asian Disaster Preparedness Centre (ADPC, Bangkok, Thailand. (2011 - 2014) The Asian Disaster Preparedness Centre (ADPC), an independent, non-profit foundation registered in Thailand, has served as the leading international focal point for disaster preparedness and mitigation in the Asia and the Pacific regions. The primary geographical focus of ADPC's activities is Asia with the South, South East and East Asia being the primary sub regions.
International Adviser, Masters of Disaster Preparedness and Reconstruction, The University of Newcastle, Australia, 2011
University of Moratuwa, Sri Lanka International panel of experts. In 2012, I was appointed as a member of the strategic advisory board of University of Moratuwa "Transformation of University of Moratuwa to International Level" strategy. Sri Lanka's Higher Education Ministry launch of a special programme to upgrade six local universities, allocating some US$6 million to improving teaching, research and infrastructure to 'international' levels.
International Panel Discussion on "Built Environment Education Trends". INTERNATIONAL RESEARCH CONFERENCE ON SUSTAINABILITY IN BUILT ENVIRONMENT, The Commonwealth Association of Surveying and Land Economy (CASLE) UK and Building Economics and Management Research Unit (BEMRU), Department of Building Economics, University of Moratuwa, Sri Lanka, June 2010.
International Strategic Advisor of the Federation of Sri Lankan Local Govt. Authorities in Sri Lanka. Federation of Sri Lankan Local Government Authorities (FSLG) is the umbrella organisation for local government associations in Sri Lanka and its objectives include: To co-ordinate a unified approach among Local Government Authorities in Sri Lanka to resolve common issues and develop participatory governance for the well-being of citizen; To increase the voices and effective participation of councillors in Local Government planning, development and decision making within the framework of participatory democracy and an associative spirit; and to strengthen the functioning and capacity of Local Government Authorities, and facilitate co-operation among all tiers for effective service delivery and development at all levels. 2010- date
Technical reviewer, Thematic Primers on "Urban Disaster Risk Management" and "Mainstreaming Disaster Risk Reduction into Development", The Asian Disaster Preparedness Center (ADPC) with the support from the Asian Development Bank (ADB); 2011 – 2012
Member of the International Scientific Committee, 2012, Annual International Conference of the International Institute for Infrastructure Resilience and Reconstruction (IIIRR): International Conference on Disaster Management, Kumamoto, Japan, August 2012
Advisor to Chamber of Construction Industry Sri Lanka, 2008 to 2014. The Chamber of Construction Industry Sri Lanka (CCI) was established on 16th October 2001 and later incorporated on 24th March 2003 as a company limited by guarantee with 7 founding member Institutions and Associations. There are 11 Institutional Members and In addition over three hundred corporate and statutory members represent the construction industry in this Chamber. CCI is positioned as the "Main Voice" on issues affecting the Construction Industry and is committed to protecting and promoting the construction industry.
Member of the organising committee and member of the international scientific committee, International Conference on Structural Engineering, Construction and Management, Kandy, Sri Lanka, 16 - 18 December 2012.
Member of the international scientific committee, Dealing with Disasters International Conference 2012 - Mobilities and Disasters - Developing a Mobilities Social Science Perspective on the Analysis of Disaster, Organised by Northumbrian University and University of Hull, November 2012.
External Examiner, MSc in Emerging Economies, School of Construction Management and Engineering, University of Reading, from 2012 - date
Member of the international scientific committee, International Conference on Industrial Engineering and Operations Management, Guimarães, Portugal, July 9 – 11, 2012.
Member of the international scientific committee,37th Annual conference of the Australasian Universities Building Educators Association (AUBEA), hosted by the Construction Management and Property Program at The University of New South Wales, Australia from 4 to 6 July, 2012.
Member of the international scientific committee, INTERNATIONAL OPEN SCIENCE CONFERENCE: Global Environmental Change Innovations and Challenges, Chennai, INDIA, organised by University of Madras, India, 21-24 February 2012.
Visiting Professor, UTM Razak School, Universiti Teknologi Malaysia (UTM), Johor,
Malaysia. 2012 - date
Member of the organising committee and member of the international scientific committee, International Conference on Structural Engineering, Construction and Management, 16 - 18 December 2012, Kandy, Sri Lanka,
Member of the international scientific committee, International Conference on Industrial Engineering and Operations Management, Guimarães, Portugal, July 9 – 11, 2012.
Member of the international scientific committee, INTERNATIONAL OPEN SCIENCE CONFERENCE: Global Environmental Change Innovations and Challenges, Chennai, INDIA, organised by University of Madras, India, 21-24 February 2012.
Adviser (HEFCE adviser - Centres for Excellence in Teaching and Learning (CETLs) – 2012-2013. And, I was a steering committee member of the UK Higher Education Disaster Relief project and a Committee member of Enhancing Learning and Research for Humanitarian Assistance (ELRHA), Higher Education Funding Council for England (HEFCE) Disaster Management initiative, UK.
Member of the international scientific committee of CIB W070, W092 & TG72 International Conference 2012, University of Cape Town, South Africa, January 2012.
Appointed International Expert: "Transformation of University of Moratuwa to International Level", University of Moratuwa, Sri Lanka. This scheme is a fully Government funded scheme managed by Sri Lanka's University Grants Commission, 2012 - date
Member of the technical/scientific committee, Joint CIB W70 and W92 International Conference on Facilities Management and Procurement Systems: "Delivering Value to the Community", to take place at the Graduate School of Business, Breakwater Campus of the University of Cape Town, V&A Waterfront, Cape Town, South Africa, on 23rd - 25th January 2012.
Member of the International Committee of Building the bridges between universities and communities: A Regional Policy Dialogue - conference organised by the University Grants Commission, Bangladesh (UGC) for the Bangladesh Vice Chancellors and coordinated by the British Council. December 2011.
Member of the Scientific and Technical Committee, Foundation Global Risk Forum GRF Davos, 4th International Disaster and Risk Conference IDRC, Davos 2011
Member of the Academic Advisory Council of the international conference 'Environmental Knowledge for Disaster Risk Management (ekDRM-2011)', 10-11 May 2011 at Vigyan Bhavan, New Delhi, organised by National institute of disaster management, India and GIZ India.
Member of the organising committee and member of the international scientific committee, International Conference on Structural Engineering, Construction and Management, Kandy, Sri Lanka, organised by the Universities of Peradeniya and Moratuwa, Sri Lanka and University of Melbourne, Australia, 16 - 18 December 2011.
Member of the international scientific committee, RICS Construction, Building and Real Estate International Research conference (COBRA 2011), The University of Salford, UK, September 2011.
International Adviser, Masters of Disaster Preparedness and Reconstruction, The University of Newcastle, Australia, 2011
Member of the international scientific committee, The Royal Institutions of Chartered Surveyors (RICS) UK International Conference on Building Research and Education, Salford, Manchester, UK, September 2011.
Member of the Intentional Scientific committee, 15TH PACIFIC ASSOCIATION OF QUANTITY SURVEYORS (PAQS) CONGRESS organised by the Institute of Quantity Surveyors Sri Lanka (IQSSL) in association with the Building Economics and Management Research Unit (BEMRU), Department of Building Economics, University of Moratuwa, Sri Lanka. July 2011
Member of the organising committee and member of the international scientific committee, International Conference on Structural Engineering, Construction and Management, 16 - 18 December 2011, Kandy, Sri Lanka, organised by the Universities of Peradeniya and Moratuwa, Sri Lanka and University of Melbourne, Australia.
Chairman of the international scientific committee, postgraduate research training and education stream, CIB World Congress, Salford Quays, 2010
Technical co-chair, Disaster Management, Construction Research Congress 2010, Innovation for Reshaping Construction Practice, The Construction Institute of the American Society of Civil Engineers and the University of Alberta, Canada. May 8 - 10th, 2010, Banff, Canada.
CIB Ambassador – Future leader/coordinator work programme with central and visible role within the CIB –November 2009
Leader, CIB/United Nations major initiative on Disaster management and its capacity building. 2008 to date (this will create two sets of UN endorsed high impact publications. April 2010 to December 2011.
Member of the international scientific committee, international research conference on sustainability, The Commonwealth Association of Surveying and Land Economy (CASLE) and Building Economics and Management Research Unit (BEMRU), Department of Building Economics, University of Moratuwa, Sri Lanka, June 2010
Member of the international scientific committee, RICS Construction, Building and Real Estate International Research conference (COBRA 2010), September 2010, Paris, France.
International advisory committee, International Conference on Sustainable Built Environment (ICSBE), 13th – 14th December 2010, Faculty of Engineering, University of Peradeniya, Sri Lanka. This is a collaboration between Universities of Moratuwa, and Peradeniya in Sri Lanka and University of Melbourne in Australia.
Leader of the international scientific committee & Leader, Disaster Management theme, RICS Construction, Building and Real Estate International Research conference (COBRA 2010), September 2010, Paris, France.
Member of the international scientific committee, international research conference on sustainability, The Commonwealth Association of Surveying and Land Economy (CASLE) and Building Economics and Management Research Unit (BEMRU), Department of Building Economics, University of Moratuwa, Sri Lanka, June 2010
Chairman of the international scientific committee & international scientific committee, postgraduate research training and education stream, CIB World Congress, Salford Quays, 2010
International scientific committee member, Associated Schools of Construction 46th Annual International Conference on "Building a global vision", Boston, USA, April 2010
Member of the international scientific committee. Construction Research Congress 2010. Innovation for reshaping construction practice, May 2010, University of Alberta, Canada.
International Organising committee member, CIB international conference on Changing Roles – new roles and new challenges, Delft, The Netherlands, 2009
Chairman of the international steering committee, Sri Lanka Facilities Management international symposium, University of Moratuwa, Sri Lanka. June 2009.
Country representative – UK. Institute of Quantity Surveyors, Sri Lanka, 2009 - date
International scientific committee member, CIB2009 - Joint International Symposium of CIB Working Commissions: W055: Building Economics & W065: Organization and Management of Construction - Dubrovnik, 27 September-1 October 2009
International steering committee, Resilient Organisations – New Zealand. A multi university research collaboration funded by the New Zealand Foundation for Research, Science and Technology and supported by industry partners and advisors. Current members include University of Canterbury, University of Auckland & Unitec, Auckland.
International scientific committee member, CIB2008 - Joint International Symposium of CIB Working Commissions: W055: Building Economics & W065: Organization and Management of Construction on transformation through construction, November 2008, Dubai, United Arab Emirates
International scientific committee member, International conference on social development and transition: Paths for global local partnerships, International consortium for social development: The Asia-Pacific branch, Kathmandu, Nepal, November 2008.
Scientific committee member, International Research Week, University of Salford, Salford Quays, UK. 2008
International scientific committee member, The International Symposium on Automation and Robotics in Construction (ISARC 2008) - 25th jubilee symposium. The 25th ISARC (ISARC 2008) was held in Vilnius, Lithuania, from June 27th to 29th of 2008.
Chairman of the International Scientific Committee. CIB W89 International Conference on Building Education and Research to be held in Sri Lanka in February 2008
International expert academic committee member, Disaster Management Bill – Sri Lanka. Ministry of Disaster management and human rights, Sri Lanka. A President of Sri Lanka initiative. 2008 - 2014.
Member of the steering committee representing University of Salford on consortium of construction professionals' Sri Lanka initiative on the North and the East redevelopment in Sri Lanka. 2009
Member, Emergency planning society, Education Standards Framework for Civil Protection, Cabinet Office, UK, 2010 – 2014
Task Force member (Education input), Rehabilitation and Reconstruction of the Northern and Eastern Provinces of Sri Lanka. President of Sri Lanka initiative. 2009 - 2015.
Project Manager, MASTERBLEND (Moratuwa And Salford TEamwork for Researching BuiLt ENvironment Development). The overall aim of MASTERBLEND is to foster co-operation in the field of built environment higher education between the University of Salford and the University of Moratuwa in promoting regional and multilateral networking between the two higher education institutions. 2008 - 2014.
Theme Leader, Disaster Planning and Mitigation. Construction Research Congress 2010. Innovation for reshaping construction practice, University of Alberta, Canada. May 2010,
MSc in commercial management in construction, external reviewer, University of Ulster, Northern Ireland. 2009
Committee member, Enhancing Learning and Research for Humanitarian Assistance (ELRHA), HEFCE Disaster Management initiative, Save the Children, 2008 - 2014
Member of 'experts' for reviewing research bids for funding councils, including the UK Engineering and Physical Sciences Research Council (EPSRC). 2007 to date
External expert. Appointment of professoriate. UMIT, Malaysia. 2008 – date
Steering Committee member – UK HE disaster relief project, 2008
Member. World Bank Researchers Alliances for Development (RAD). 2006 - 2010
UNHABITAT working group on disaster management in developing countries. 2008 - 2011
Parliamentary and Scientific committee on "How can the Science help to prevent natural disasters becoming economic and human catastrophes?", 2008
Consultant in setting up disaster management research centre at Patuakhali Science and Technology University in Bangladesh, 2008
Invited member (1 of 7 members). Research Councils UK Postgraduate Strategic Policy Forum. 2006 – 2007
Member of the Research Councils Strategic Forum for Postgraduate Researchers. 2005 – 2007
Chairman of the International Scientific committee for 7th International Postgraduate Research Conference in the Built and human Environment, Research Institute for the Built and Human Environment (BuHu), 27th – 29th March 2007
Consultant and International Advisor on the development of disaster management teaching programmes, Department of Environmental Science and Disaster Management Patuakhali Science and Technology University, Bangladesh. 2007 - 2009
Expert Reviewer – Development of RICS Accredited BSc in Facilities Management, Department of Building Economics, University of Moratuwa, Sri Lanka. 2006 – 2007.
Co-chairman of the international scientific committee for 6th International Postgraduate Research Conference in the Built and human Environment, Research Institute for the Built and Human Environment (BuHu) and Delft University of Technology and TNO, Delft, The Netherlands, 6th – 7th April 2006
Chairman of the International Scientific committee for 6th International Postgraduate Research Conference in the Built and human Environment, Research Institute for the Built and Human Environment (BuHu) and Delft University of Technology and TNO, Delft, The Netherlands, 6th – 7th April 2006
Chairman of the International Scientific committee for 5th International Postgraduate Research Conference in the Built and human Environment, Research Institute for the Built and Human Environment (BuHu) 13th – 15th April 2005
Scientific committee member for several other international conferences including Association of Researchers in Construction Management Conference (UK, 2004, 2005, 2006); 1st, 2nd, 3rd, 4th, 5t, 6th & 7th International Postgraduate Research Conferences (Salford, 2001, 2002 & Portugal, 2003); 2nd CIB Student Chapters International Symposium (China, 2004); 2nd & 3rd education in the changing environment conference (UK, 2005, 2006); PRoBE conference (Glasgow, 2005).
Took part upon invitation in the debate panel titled "research informed curriculum", "The teaching and research relationship: developing institutional policy and practice. An international conference on institutional policies, structures, processes and practices to develop the relationship between teaching and research. Higher Education Academy. November 2005.
Invited by the Department of Building Economics, University of Moratuwa, Sri Lanka to be an external consultant to the development process of RICS accredited BSc in Facilities management undergraduate degree programme. 2005.
Invited by the Faculty of Architecture, University of Moratuwa, Sri Lanka to be part of the Strategic Development Group of Faculty of Postgraduate Studies. 2005.
HEFCE Adviser - Centres for Excellence in Teaching and Learning (CETLs) - specialist advice on stage two bids. 2004/05.
Co-ordinator of the International Council for Research and Innovation in Building and Construction (CIB) Task Group 53 – Postgraduate Training in Building and Construction. 2003 to 2010.
CIB Student Chapters. Academic Adviser influencing international postgraduate researcher community within the field. 2002 to 2007
Member of CIB W55, Building Economics committee. 2001 - 2014
Member of CIB W102, Knowledge Management in Construction. 2001 - 2014
Member of CIB W89, Building Education and Research. 2001 – date
Member of CIB W65, Organisation and Management of Construction. 2001 - 2014
Member of CIB TG 63 Disasters in the Built Environment. 2006 - 2010
Member of CIB W70 Facilities management and asset maintenance. 1999 - 2014
Adviser. EU bid developments in Education and Training. TNO Netherlands. 2003 – 2004
University of Salford representative to Construction Industry Council (CIC). 2003 - 2014
Member. UK Grad. Programme. Northwest Hub (Vision of this institution is for all postgraduate students to be fully equipped and encouraged to complete their studies successfully and then to make the successful transition from their PhD studies to their future careers). 2003 to 2007
Member of the Strategic Review Panel. NHS Estates. 2001 – 2002.
Examiner. Board of Architectural Education. Sri Lanka Institute of Architects. 1996 – 1997.
Examiner. National Certificate of Technology Programme. Ministry of Technical Training. Sri Lanka. 1996 – 1997.
Examiner. National Certificate of Technology (Quantity Surveying and Civil Engineering) Programmes. Department of Technical Education and Training, Sri Lanka. 1994 – 1997.
Examiner. Building Economics, 2nd year, Department of Architecture, Faculty of Architecture, University of Moratuwa, Sri Lanka. 1996 – 1997.
Member of validation panels (e.g. Steering Committee member, Transfer of research knowledge into teaching research project; Panel member, Academic review committee, Emerald publishing; Steering Committee member, Improving dissertation assessment project).
National Industrial Training Advisory Committee for Architecture and Building Economics, 1997.
Member. Graduate Association of Quantity Surveyors, Department of Building Economics, University of Moratuwa, Sri Lanka. 1994 to date