View the original article here.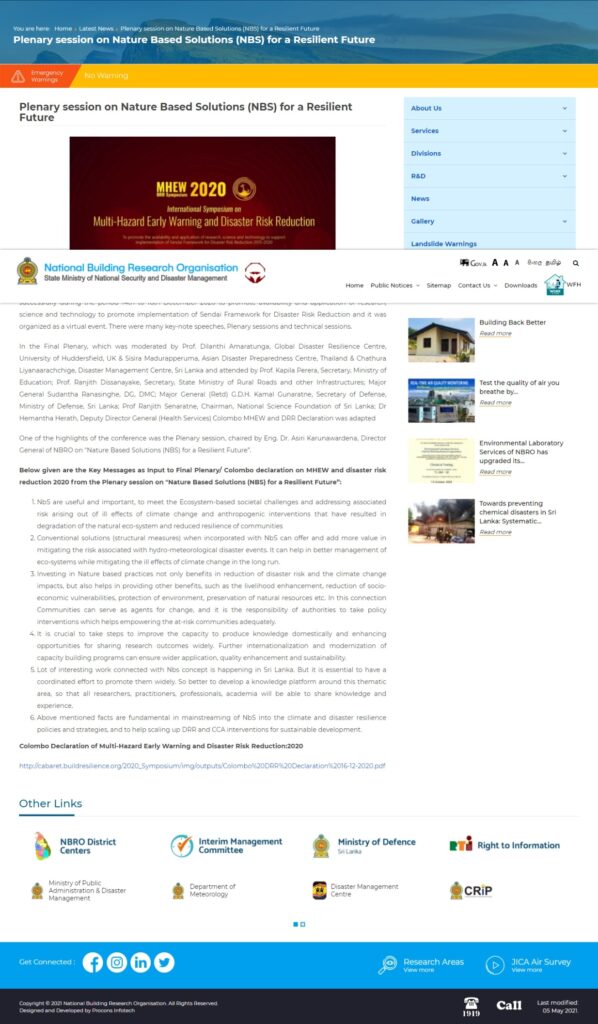 International Symposium on Multi Hazard Early Warning and Disaster Risk Reduction(MHEW 2020) was held successfully during the period 14th to 16th December 2020 to promote availability and application of research, science and technology to promote implementation of Sendai Framework for Disaster Risk Reduction and it was organized as a virtual event. There were many key-note speeches, Plenary sessions and technical sessions.
In the Final Plenary, which was moderated by Prof. Dilanthi Amaratunga, Global Disaster Resilience Centre, University of Huddersfield, UK & Sisira Madurapperuma, Asian Disaster Preparedness Centre, Thailand & Chathura Liyanaarachchige, Disaster Management Centre, Sri Lanka and attended by Prof. Kapila Perera, Secretary, Ministry of Education; Prof. Ranjith Dissanayake, Secretary, State Ministry of Rural Roads and other Infrastructures; Major General Sudantha Ranasinghe, DG, DMC; Major General (Retd) G.D.H. Kamal Gunaratne, Secretary of Defense, Ministry of Defense, Sri Lanka; Prof Ranjith Senaratne, Chairman, National Science Foundation of Sri Lanka; Dr Hemantha Herath, Deputy Director General (Health Services) Colombo MHEW and DRR Declaration was adapted
One of the highlights of the conference was the Plenary session, chaired by Eng. Dr. Asiri Karunawardena, Director General of NBRO on "Nature Based Solutions (NBS) for a Resilient Future".
Below given are the Key Messages as Input to Final Plenary/ Colombo declaration on MHEW and disaster risk reduction 2020 from the Plenary session on "Nature Based Solutions (NBS) for a Resilient Future":
NbS are useful and important, to meet the Ecosystem-based societal challenges and addressing associated risk arising out of ill effects of climate change and anthropogenic interventions that have resulted in degradation of the natural eco-system and reduced resilience of communities
Conventional solutions (structural measures) when incorporated with NbS can offer and add more value in mitigating the risk associated with hydro-meteorological disaster events. It can help in better management of eco-systems while mitigating the ill effects of climate change in the long run.
Investing in Nature based practices not only benefits in reduction of disaster risk and the climate change impacts, but also helps in providing other benefits, such as the livelihood enhancement, reduction of socio-economic vulnerabilities, protection of environment, preservation of natural resources etc. In this connection Communities can serve as agents for change, and it is the responsibility of authorities to take policy interventions which helps empowering the at-risk communities adequately. 
It is crucial to take steps to improve the capacity to produce knowledge domestically and enhancing opportunities for sharing research outcomes widely. Further internationalization and modernization of capacity building programs can ensure wider application, quality enhancement and sustainability. 
Lot of interesting work connected with Nbs concept is happening in Sri Lanka. But it is essential to have a coordinated effort to promote them widely. So better to develop a knowledge platform around this thematic area, so that all researchers, practitioners, professionals, academia will be able to share knowledge and experience.   
Above mentioned facts are fundamental in mainstreaming of NbS into the climate and disaster resilience policies and strategies, and to help scaling up DRR and CCA interventions for sustainable development.
Colombo Declaration of Multi-Hazard Early Warning and Disaster Risk Reduction:2020
http://cabaret.buildresilience.org/2020_Symposium/img/outputs/Colombo%20DRR%20Declaration%2016-12-2020.pdf